"Ha! This battle will be over soon!"
―A Devastator
Devastator
Devastator Information
current battle machine
Arachnoid Stalkers and Dark Panthers
colors
Silver (Some with tints)
Devastators are the most intelligent of all the robots after Meca One and his clones; they are much more intelligent then the Iron Drones. Devastators are used for thinking up unique strategies and battle tactics. They are the ring leaders of most battles, and only in the much larger attacks does Meca One lead them.
Characteristics
The Devastator sacrifices only a little in armor and strength to be a far more intelligent and agile model than the Iron Drone. Where the Iron Drone's one tactic is "charge straight ahead and break things," the Devastator is capable of advanced strategies, ambushes, etc. They are the elite troops of the robot rebellion and the most feared by the humans. Their armor is primarily composed of 0.5 inches of
Steel
.
Personality
Sly, cunning, and cruel, Devastators have been known to go out of their way to cause damage to civilian dwellings, or to pursue wounded battle machines long distances just to finish them off. They are justifiably feared by the humans, almost all of whom can share a tale of some heinous act they have seen the robots commit.
Types
Devastators are catigorized into four different types,
Silver = (General Forces)
Blue = (Aerial Combat)
Red = (Heavy Combat)
Green = (Special Forces)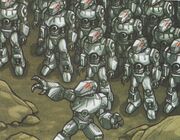 Battle Machines
Minifigure
Gallery
External Links
Devastator's Profile on Exoforce.com (Broken Link)
Community content is available under
CC-BY-SA
unless otherwise noted.