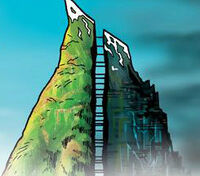 New To Exo-Force? To understand books and storyline better, you may want to start here!
Exo-Force Members

Robots

Sentai Mountain Locations

Current Exo-Force Battle Machines

Current Robot Battle Machines

Other Locations

<createbox> width=24 break=no buttonlabel=Create new article </createbox>
Community Info
If You're new to the site and are wondering how you can help, please check out the To-Do List.
You can contact staff members on their talk pages
___________________________________________________________________________________________
'Exocraft' Minecraft Sentai Mountain Project: Hey everyone! I am back once again. I've recently been talking with Eljay and Mesonak, two people involved in the well-known Biocraft: Chronicles (Bionicle Minecraft) Project, and they said they'd be more than willing to help me construct a replica of the Sentai Mountain. Anyone who wants to help out is welcome, just PM me on my talk page if you want to help out! You can learn more about the project here.
___________________________________________________________________________________________
Word Search: Hey everyone! Please try out the new word search for exo-force here.
___________________________________________________________________________________________
Screen Saver: Hi everyone! I created a really awesome new screen saver/advertisement for the wiki, you can download it here.
Updates
You can go here to see older news.
February 11th, 2019 - I've begun a new series of reviews spanning the entirety of Exo-Force's line, and will include never-released sets within it. Please check out the first one here! Others can be found on their respective pages across the wiki.
November 12th, 2018 - Hey everyone! 10 year anniversary of the wiki has just dropped and I wanted to let everyone know I've got something special in the works that will be dropping in about six weeks, so stay tuned. :)
May 29th 2016- Happy 10th Anniversary of Exo-Force everyone! Just checking in to see how everyone is doing. Shoot me a message if you're still out there!
November 8th 2014- A parts list for the long-lost Jungle Thrasher set has been posted, along with an LDD set of instructions. Go get those parts off bricklink and build yourself one!
November 7th 2014-Hewarth has been promoted to Admin, due to Jeyo's inactivity.
Featured article

Aged and wise leader of Exo-Force, It was he who first designed Meca One, the robot who later led the rebellion against the human race. It was also Keiken who founded Exo-Force and helped design their first battle machines.
For more, see Sensei Keiken
Videos and Movies
Check out the Movies Section!
Exo-Force Wiki in Spanish!
Visit our Spanish Exo-Force Sister Site!
Community content is available under
CC-BY-SA
unless otherwise noted.