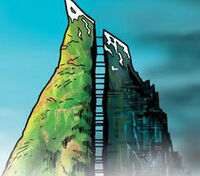 New To Exo-Force? To understand books and storyline better, you may want to start here!
Exo-Force Members

Robots

Sentai Mountain Locations

Current Exo-Force Battle Machines

Current Robot Battle Machines

Other Locations
Community Info
If You're new to the site and are wondering how you can help, please check out the To-Do List.
You can contact staff members on their talk pages
___________________________________________________________________________________________
'Exocraft' Minecraft Sentai Mountain Project: Hey everyone! I am back once again. I've recently been talking with Eljay and Mesonak, two people involved in the well-known Biocraft: Chronicles (Bionicle Minecraft) Project, and they said they'd be more than willing to help me construct a replica of the Sentai Mountain. Anyone who wants to help out is welcome, just PM me on my talk page if you want to help out! You can learn more about the project here.
___________________________________________________________________________________________
Word Search: Hey everyone! Please try out the new word search for exo-force here.
___________________________________________________________________________________________
Screen Saver: Hi everyone! I created a really awesome new screen saver/advertisement for the wiki, you can download it here.
Updates
You can go here to see older news.
April 27th 2013- Melli has returned, and has been re-promoted to Moderator.
Jan 16th 2013- We've just crossed over the 300 page mark, as well as the 1100 image mark.
Jan 3rd 2013- I've recently been informed of a cancelled Deep Jungle set under the serial number 8116, which was going to be called the Jungle Thrasher. I was given some pictures by an anonymous user. I created a page since it was technically a set, or would have been if Lego hadn't had such bad sales.
Jan 1st 2013- Happy New Year Everyone, we've almost reached 300 content pages, keep up the good work!
Dec 22nd 2012- I'd like to announce the promotion of our latest admin, Jeyo
Nov 4th 2012- I have returned again to make a few changes. If anyone is still out there, shoot me a PM or something so I know there are other fans still out there!
May 6th 2012- Hey guys, I've made several major updates to the site, including adding download links for all the comics, added info and fixed some major errors in some of the famous battles of exo-force. Also, WOO 250 content pages, 1500 pages including talk, category etc, and almost 750 images. :)
May 1st 2012- Hello guys, I'm back after a long time of being inactive, and I've been cleaning up the pages a bit, I'd love to get into some sort of Chat on Skype or something, so anyone who's interested can contact me on my talk page or email me :)
Featured article
Aged and wise leader of Exo-Force, It was he who first designed Meca One, the robot who later led the rebellion against the human race. It was also Keiken who founded Exo-Force and helped design their first battle machines.
For more, see Sensei Keiken
Videos and Movies
Check out the Movies Section!
thumb|left|300px
Exo-Force Wiki in Spanish!
Visit our Spanish Exo-Force Sister Site!
Community content is available under
CC-BY-SA
unless otherwise noted.