The Jungle Thrasher (unofficial name dubbed by the designer, Nabii), was a Battle Machine mech scheduled for release in 2008, along with the other Deep Jungle sets. However, due to the quickly dying theme, Lego decided to cancel this model. It was unknown why they chose to cancel this set so late in its creation process. Some photos and vague instructions were shown in BrickJournal volume 2 issue 4 - Winter 2008. Nothing else is known about this 'Lost' Exo-Force set. While the actual set's design was finalized, the stickers, packaging, instructions, fiction details, and a name were not.
Description
The set resembled a large red frog with a spinning tri-bladed shield and a laser on its two arms. It had 3-pronged toes that it is proped up on, and appeared to have a scorpion-like Mini Bot and looks to have been piloted by a Devastator. The Devastator pilot was to be the silver variant and was to include the red axle "brain" piece. The set number was to be 8116, accounting for the gap in the 2008 set numbers. Limited and undetailed instructions are available with the BrickJournal article. If we use the other Robot battle machines as an example, this battle machine's designation would have been JT.8116. The set's final prototype had 228 pieces.
External Links
◾Parts list for Jungle Thrasher
Gallery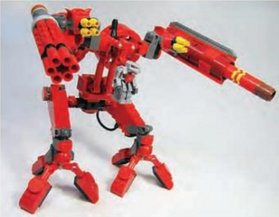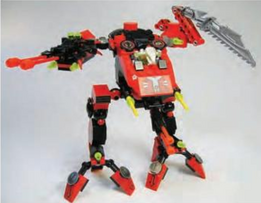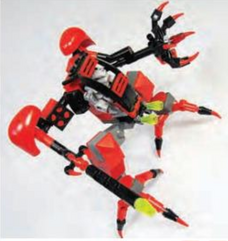 Community content is available under
CC-BY-SA
unless otherwise noted.