The Sentry II is a stronger, faster, and more efficient version of the original Sentry.
History
First Use
A Sentry II and a R-1 Rammer were used in a tunneled invasion on a bridge just below the Tenchi Bridge, and were effective until the arrival of the Mountain Warrior, at which point they retreated.
Later Use
Some Sentry II units were seen guarding a gate of the southern half of the mountain and leading small patrols of Sentries.
A few Sentry II units were also seen in the Striking Venom Attack along with regular Sentries, being led by a Thunder Fury. After the Striking Venom Attack they stopped being produced and were never seen being used again.
Human Use
A Sentry II was seen being piloted by Sensei Keiken while he was training Takeshi in Combat.
Information
Sentry IIs were very uncommon, and were basically the same as a Sentry, minus their slightly thicker armor and different weapons, the only difference notable from a long distance is their distinctive dark red armor. Sentry IIs are piloted by a single Iron Drone.
Set Information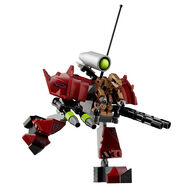 Year Released: 2006
Price: $30 USD (with Gate Assault Set)
Apx value if sold seperately: $5 USD
Item Number: 7705
Pieces: 402 with the Gate Assault set
Alternative Model: Blockade Bulldozer
Appearances
External Links
External Links
Building Instructions Official Review by Joev14
Community content is available under
CC-BY-SA
unless otherwise noted.