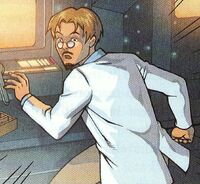 Yukio is the husband of Akina, and father of Tamika and Takeshi.
History
He was formerly a pilot and test-ran the Exo-Force Battle Machines in their first stages before the first Peaceful Era. He, Akina and Tamika were separated from Takeshi and captured by the Robots when they attacked. He and his family were reunited with Takeshi, thanks to Hikaru.
Information
Yukio is the Father of Takeshi and Tamika and is the Husband of Akina. He was formerly a pilot. When he was captured by the robots, he designed their battle machines.
Community content is available under
CC-BY-SA
unless otherwise noted.